VIP Treatment
Make your athlete the star!
Ohio Action Images is pleased to announce a new service for our customers! The VIP Treatment!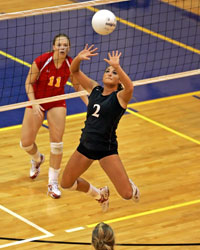 We will come to your game or event and focus exclusively on your athlete. High resolution images will be processed for printing in sizes up to 20X30 posters and transferred to a CD that you can keep forever. Use for e-mail, screensavers, calendars, prints of all sizes, slide shows, scrapbooking, or many more ideas! Great for those athletes interested in collegiate athletics needing some action images to send along with their resumes. We'll make your athlete the star of the show!
Like all of our products, your satisfaction is guaranteed! We are now offering this service at $150 per event. You will receive by mail a CD with at least 50 high resolution images along with a signed copyright release for personal non-commercial use of the images. For most events like baseball, basketball, football, gymnastics, soccer, softball, volleyball, wrestling, or track you will get a minimum of 90 minutes of coverage or the duration of the game included whichever comes first. Often, this may result in many more than 50 images. Other sports or activities can be covered, but we may not be able to get a full 50 images. We'll be happy to work with you and discuss your options.
We can also cover more than one athlete at an event for an additional $50 fee per subject, just ask for details. That's great for siblings on the same team or good friends playing together.
Payment is by check, cash, or money order at the time of the event. For events farther than 50 miles from either 44074 or 44090 we may require a deposit in advance and an additional mileage fee.
We'll make the process simple for our customers. Just fill out the request form below with your information and we will call to confirm an exact date and final details. It helps if you can give us a few choices on dates and at least a 3 day advance notice. We may be able to work with a shorter notice, but to avoid disappointment, sign up early!
More questions?